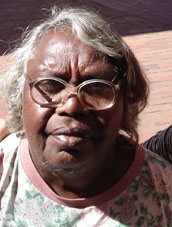 ARTIST:   MARGARET SCOBIE
BORN:     c1948
REGION:  UTOPIA
LANGUAGE: ANMATYERRE
Biography:
Margaret was born around 1948 in Woola Downs, a community in the Northern Territory.
Margaret  grew up surrounded by family members who were respected artists. She is first cousin of the well respected Petyarre sisters and the famous Emily Kngwarreye is her aunt.
The majority of Margaret's works depict bus
h medicine leaves, spinifex grass or Awelye. In the grass and leaf works, Margaret uses flowing lines to depict the plants as they are blown by the wind. The Awelye works depict body paint designs used in important women's ceremonies. Margaret is known for her use of an array of vibrant colours.
There is a rich artistic history that is affiliated with Margaret's family, one of them being highly renowned artist – Gloria Petyarre – her cousin and the late Emily Kngwarreye her aunt.
Margaret's mother is sister of Emily Kngwarreye (1910-1996) and also sister to Petyarre's father family . Her mother siblings are the famous Petyarre sisters Gloria Petyarre, Kathleen Petyarre, Anna Petyarre and Ada Bird Petyarre. Margaret maintains a close relationship with her cousin Gloria Petyarre.
Margaret has become famous for several of her own unique and different painting styles and is now recognized as an accomplished artist.
Several of her themes or dreaming include Spinifex (portraying grass blown by the wind.) Awelye (Body painting designs) and Bush Medicine Leaves (depicting leaves of a special bush medicine plant -Kurrajong Tree -which is used for medicinal purposes)
Margaret is an Anmatyerre woman from the Utopia region in Central Australia. Margaret speaks Anmatyerre of Adelaide Bore, Utopia Region.
With a great artistic family tradition Margaret is a well-known Australian artist. Margaret Scobie artworks often depict Bush Medicine Leaves and Awelye (body painting). The Awelye designs is used in the important Women's Ceremonies.
Margaret Scobie lives in Alice Springs with three daughters, one son and three grandchildren her husband, Tommy Johnny Scobie Tjapanangka (1938-2000) has passed away. Margaret Scobie has been painting for most of her life. Painting is in her 'blood'. There is a rich artistic tradition that runs in Margaret Scobie family she was destined to be an artist.
COLLECTIONS
Margaret Scobie work is widely represented in Australia and around the world.
Showing the single result